1984
A pro mountain bike racer came to IRD's machine shop to get a custom seat post made. From that one post, IRD starts getting orders from other racers and IRD was sucked into the business of making bike parts. Different forms of his two-bolt design (by other makers) is a still on the market today.
Seat Post 
First extra-long aftermarket seat post Micro Adjustable extra-long rail support. First to use hard anodizing most copied seat post design in recent history.  U.S. patent sold to Kalloy Industries (1995)
Infinity Taper Wall Handle Bars 
The first MTB taper wall handlebar ever! This bar was made from .120 wall 2024-T3 and Reamed from both ends. 7/8 diameter with spacer for stem.  At 235 grams the bar lasts forever and bars ends are secure.
Center Pull Rim Brakes 
Center Pull Progressive: first U-brake available. First product based on aluminum shape extrusions Superior to Shimano U-brake as it had more range of pad adjustment, Mechanical advantage and a more user friendly quick release.
---
1985
Developed the Progressive Brake. Shimano released a similar brake around the same time (the U-brake).
First taper wall aluminum MTB handlebar developed.
Macaroni Stems 
These Stems were one off the first to use petite dual (5mm) binders and with a lightening hole on face, now an industry standard.
---
1987
Raymond Baldwin becomes 50% of Interloc Racing Design. Rod and family move from Northern California to Selma Oregon. Rod and Ray begin a successful partnership. Rays industrial design talent and Tool making ability bring IRD to next phase of exponential growth. 
---
1988
Developed the Rotary BrakeWidget Brake
This half-U / half roller-cam brake was rated the highest in Mountain Bike Magazine's 1992 test of 22 MTB brakes in wet and dry stopping power.
Developed Remote Seat Quick Release
Started playing with frame design; eventually developed the Stoker and Semi-Stoker frame which had a longer front-center, which was extremely comfortable on extended climbs.
Rotary Rim Crusher:  
Use of a single sided cam to generates a tremendous amount of modulated precise power. The chain stay Version had a chain suck feature built into the bridge. Good Mud clearance and tire removal is user friendly. Can stop a bike even in the snow!
Frame miter fixture: 
Rod designs the in-position miter frame fixture. Ray completes fixture and IRD is now able to build frames of unique and innovative geometry in small numbers. Long front centers and ultra short chain stays are the focus of IRD frame design. This unique frame fixture allowed IRD to explore long pedal crank bikes for expedition Mountain Biking. These IRD
frame geometries are now industry standard.
Long Pedal Crank Bikes:  
IRD build and sells Off-road bikes with specific geometry for 190mm (and longer) pedal crank bikes. Extensive work in this long pedal crank area of study is pursued. Rod still feels strongly that entry level ATB and sport bikes should come with 188mm pedal cranks, some even with 195mm, this is an unexplored and underrated segment of the market.
1988 seat post patent
---
1989 Press release for the remote seat binder release.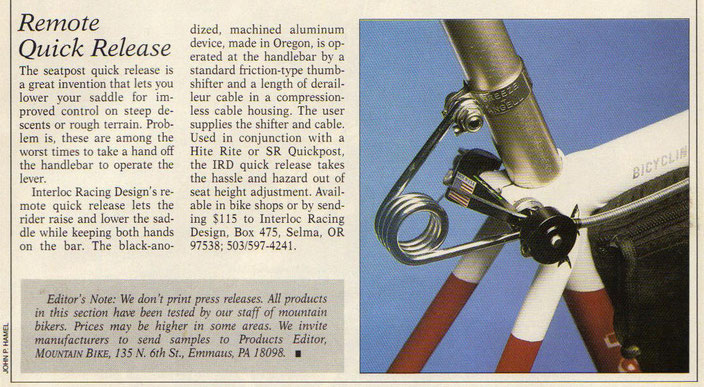 IRD Semi Stroker Mountain Bike magazine article, December 1989.
Switchback Cantilever: 
This brake made a modest amount of multiplied power with a unique cable routing. Great tire clearance for wheel removal.
Tubular Brake Booster:
Many customers were expressing a need to stiffen up their canti- brake systems and this Tubular booster filled that requirement.
Remote Quick Release: 
This device allowed the rider to release his seat post binder using a with a cable shifter. This design was finished just in time to have the Cross- Country market segment decide they did not need to make seat height changes. The RQR and The Hite Rite become paper weights.
Expedition Fork (non- suspension):
One of the first ATB forks to be constructed with NO welding. At that time, the Bontrager fork still had welded on brake mounts. The fork crown and blades both flex in unison to make the smoothest ride ever for a non-telescopic modular fork. The clamp on brake mounts allowed the use of U-brakes or cantilevers. This fork is still prized by single speed riders.
---
1990
Cross Country Expedition Telescopic Fork: 
One of the first ATB shock fork to use a fully sealed bellows system to eliminate the need for high friction wiper seals. One of the first forks to use elastomer springs. Weight is 2.8lbs.with a titanium steer tube. Use of hard anodized surfaces for stanchion to sliders contact was very innovative for that. With the fore and aft flexibility of the IRD Torsion crown and the supple movement of the sliders it is still a great cross country fork by today's standards.
Widget Brake: 
This brake was an invention that came out of the swing arm bike project. There were no production crossover brakes to be had at that time and many full suspension bikes were in development during that era. Kim Sonier won some of her first downhill races with IRD shock forks and rim brakes. 
Key Features of Design:
Modulated, tunable, controllable power application.
Threaded crossover rod allowed quick and easy pad clearance adjustment and allows for quick tire removal. Sold 2000 sets to Trek for its swing arm bike.
---
1991 
Developed world's first low-forward pivot full suspension frame
Developed the Widget brake, because they needed a brake that could mount to the rear swing arm. This and the Marinovative Brake are the progenitor to today's V-brakes.
---
1992
September 1992 press release for the full suspension frame.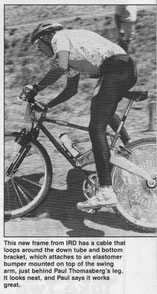 1992 Magazine article about the history of IRD.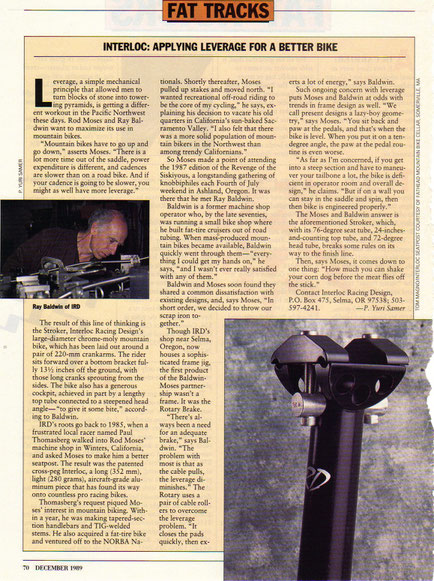 November 1992 FS article:
Full Suspension Frameset: The first of its kind to use a low forward pivot location that is now a popular variant. Rod received notice of patent allowance of claims but was late with drawing revisions due to the distraction Ray Baldwins retirement in 1993. Rod did receive a design patent that covers the curved shape. Paul Thomasberg takes 3rd overall in national down standings on this bike.
---
1993 April brake article: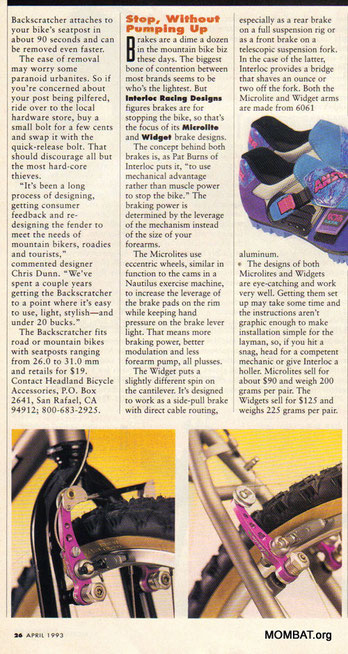 ---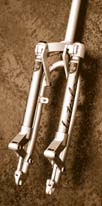 1996 IRD works with Dave Ijams and John Castellano to bring their Trailing Link Fork to life. This was the first production fork with an Anti-Dive feature
---
2000 
IRD gets back into the frame market with Metax stainless steel frames. It was hard to get a consistent supply of Metax, so the project was scrapped.
2001 
IRD regroups and introduces new frames made out of Prestige Cr-Mo and Scandium.
2002 
After 2 years of playing with chains, IRD developed a hand-removable connector link for Campy 10-speed chains
---
Epilogue 2011 
Below is an email Jeff Archer received from Rod in September of 2011.  He asked him to add this to the web site as his epilogue.  
"About the MBHOF.. 
Really I'm not kidding, please do this for me. Would appreciate it much.  
I do respect the Marin group in a huge way for what these athlete cyclist biz guys did for us by creating a work world for craftsmen product developers like me. We were really 5 years late into the big ATB revolution and rode the tail of the comet that the Marin group created and launched on a shoe string.  Because of this early dynamic and creative work and effort I did not get drawn into the making the of weapons systems or creations that are specifically engineered and designed to kill people mostly in 3rd world countries.The Marin group did a great thing for us all from my era by creating a viable industry so that a number of design, biz, sales and management folks from my generation were able to ESCAPE a factory-engineering job or a cubicle life. That is the very core and heart of what happened really for machinist design persons like me who just happened to get on a mountain bike and discover a new fitness activity that became a lifestyle!  I and some like me were not serious competitive cyclists like the Marin Group and that needs to be said to set us apart from the hard-core fully committed athlete cyclists.  In my summation of this modern ATB event in our current USA cycling cultural history this Marin group did way more than just bring off road cycling to the fore front in our modem world. Some of the talent that entered the bicycle industry came from the Aeronautical, Defense industry or they were headed in that direction. And because the bike industry had a place for them they did not end up devoting their professional careers to design and make stuff that is now being used to kill shop keepers, farmers and women and children and in third world countries now being caught in the crossfire of revolution in the middle east. Oh and we were afforded the opportunity to spend quality, quantity and intense time with our family and that is worth about a hundred bazillion trillion dollars! . I know many many guys who made big time money and are dismal failures as fathers and husbands just due to the circumstances of what it took to pay the bills and do that 2 hour commute each morning and night. It was not entirely their fault, it was an unchangeable circumstance that came down the rail at them and they did their jobs and what had to be done so lets not judge them! And on the weekends those cubicle prisoners got to go out into the woods and get a portion of sanity on their affordable Mountain Bikes. Thats a huge point to remember!  So, I am really one of the luckiest men on this planet surface today. Please quote me on this often. You don't have to like and love them Marin bike peoples, but the results demand that you must RESPECT them for what they accomplished without a back up plan on our behalf!  It did sent shock waves thought our modern day culture on a very human level.  Thanks Guys I do Respect and appreciate your efforts. Rodney David Moses"
---
From the Mountain Bike Hall of Fame
In the early days of MTB racing Rod created state of the art bicycle components and was constantly trying to improve the current trend of componentry. Instead of forged parts that required large investment capitol, Rod was innovative in the use of aluminum extrusions and machined parts in many of his designs, just like the two bolt infinitely adjustable seat post
he created for first generation racers who were using small frames to achieve extra stand over height. From 1985 to 1987 these first parts were actually made in his two car garage in Winters California that over looked the Putah Creek Irrigation Lake. As Rod relates, one of Paul Thomasbergs favorite things was to wait at his shop looking for the Davis bike club riders to come into view . With his knobby race bike he would hammer down his driveway, fall in behind the pack and drop them on the way back to Davis which was 50 miles away.
With several brake designs, frames, suspension systems, stems, bars, and all sorts of secondary components to his credit, I believe he stands out as a true innovator entrepreneur. His handlebars made of 2024-T3, were the lightest and strongest on the market and was the first to utilize an internally tapered wall. 
Other early innovations include a roller cam style brake with huge stopping power, the world renowned two bolt seat post clamp, and the list goes on. Rod was one of the first component designers to use these 2024-T3 high grade aircraft alloys in that era. He had a considerable following and his designs can still be seen today, being exclusively sold by the new Interloc USA company. 
Rod was passionate about sponsoring Paul Thomasberg in his early promising racing career and was greatly inspired by Pauls expert class win at the historical 1985 NORBA Nationals in San Luis Obispo California. At this race event a good number of racers had bent and drooping handlebars due the roughness of the course and this was inspiration to create the Infinity wall flat bar. Rods father being a USAC midget champion of the 1950s was a big influence on his desire to sponsor as many aspiring racers as IRDs small resources would allow.
After taking Raymond Baldwin in as a partner and moving to Selma Oregon in 1987 IRD/Interloc Racing Design gave substantial support to the growing single speed movement of the Pacific Northwest in particular the infamous Dave Grey, one of the founding fathers of the modern single speed world. It can be said that Rod is considered one of the first retro grouch enduro personas of the 1990s. 
Not only was Rod Moses a designer, but an avid cyclist as well. He Attended many off road races and was active in promoting his designs And mountain biking when he wasnt out in the boondocks working up a sweat. His designs were race proven, by himself and by sponsored riders, in addition to the normal R & D. He may not have been bankrolled by mega-dollar corporations, but I believe he has had a significant impact on current ATB bicycle design and deserves to be recognized by the MBHOF as one of the pioneers of the mountain bike
industry.
---