Early 1970's
Inspiration; Enter Mark Groendal, inventor and builder of the Sling Shot bicycle frame design. Mark was a fun loving kid doing what good kids do in the heartland of America (Michigan). One day he was riding his mini-motor-bike that had a frame design similar to a standard rigid diamond bicycle frame. At some point the frame begat a noticeably smoother ride over bumps and other obstacles. Upon inspection he discovered the frames down tube had broken. Thus the discovery that flex, as a type of suspension, can be a beneficial property to a two wheeled vehicle used in an off-road capacity. 
This discovery flies in the face of over a hundred years of the prevalent bicycle design philosophy known to mankind. Sling Shot aficionados (A.K.A. Brothers of Flex) refer to this philosophy as the rigid paradigm. Appropriately labeled: rigid thinkers (those folks who revel, bask, coagulate and congeal in the rigid paradigm) historically have a rather difficult time accepting the concept, to the point of belittling the Sling Shot design or mocking the person(s) riding/showing them. As is with many different and unique inventions and concepts, the age old saying: dont knock it till you try it is/was/will be truly applicable in many cases. 
There is a particularly interesting anecdotal story about the first time the Sling Shot debuted at the annual industry trade show. During set-up hours, a person identified (by his I.D. badge) as Tom Ritchey happened by the Sling Shot booth, took one look at the bikes and announced: That will never work. Well we brothers of flex often wonder: Mr. Tom Ritchey, how do your words taste now?In fact as history is played out, this unusual design makes some serious notions regarding suspension and bicycles as a truly valid and lovely union.
1980
Mark Groendal designs the first prototype BMX Slingshot.
1981
Mark Groendal applies for his first patent: Flexible Bicycle.
1982
Greendale Bicycle Co. founded by brothers Mark and Joel Groendal in Wyoming, Michigan. The concept was to use a flexible plate, which was replaceable, for a hinge. This hinge had to possess physical properties that allowed a large amount of elastic strain and endure a range of input frequencies and limit lateral strain. Several prototypes were made and tested using sections of skis for flex plates and heavy gage steel tubing for elemental stiffness and strength.  
1983
First Sling Shot production frames built: BMX size; quad top tubes out of 4140 Cro-Mo square tubing, extra support struts, large flex plate, twin cables and springs. Cables were made utilizing sailboat technology: stainless 3/16 cable (2,000 lb breaking strength) swaged ends, clevis pins and yokes to match. Die (tool & die) compression springs were also utilized, as they are readily available in a multitude of spring rates, keep their properties over time and in variable conditions.Initially 7 were produced in one size only.  The frames were given to racers for demanding testing and feedback. Thus began the tradition of Sling Shot bicycles as racing bikes. 
Sling Shot BMX Race Team founded. Members included: Kevin Nowak (A.K.A. Pee Wee), Dave Hill
1985
First production mountain bikes.  The 1985 design has quad top tubes with dual cables, going from about 1/3 of the way back from the head tube, going around the bottom bracket and anchoring to the seat stays (the design is very similar to the 1982 BMX frame).  The seat stays join the chain stays about 3/4 of the way back and there is a second set of seat stay for the brakes.   Flex plate was still custom made (ski size) fiberglass. Extra support tubes were used along with quad top tubes, BMX BB shell, twin cables & springs w/springs under BB. A sample exists in MTB Hall of Fame in Crested Butte, CO.  It really has a labor-intensive Frankenstein look to it. 
1986
The 1986 frame looks to be much simpler.  There are 2 smaller top tubes with a third larger tube under them.  There appears to be 4 struts that connect the top tubes.  The twin cables attach about 1/3 of the way back from the head tube and travel to the bottom bracket shell where the springs are mounted.
1987
Slingshot March  Ad:
The 1987 frame is simplified even further.   The two top tubes become equal sized and are joined by a single strut about 1/3 of the way back from the head tube.  The single cable leaves from the strut and is anchored to the bottom bracket shell where the spring is located.  Compact fiberglass board profile designed and implemented utilizing 3-M unidirectional spring material (similar to the Corvette). Twin top tube, single cable/spring set-up located on centerline, eliminating noise. Internal seat tube gusset plate (patented) added and seat tube-reinforcing collar at box/board area Lighter frame tubing (True Temper) used. Also new: Slingshot front forks made from 1x0.049 tubing, straight blade uni-crown design with rake at both steer tube miter and dropout included with frames. Mark Groendal applies for his second patent: Bicycle Frame. Joe Hill of Latonville, CA becomes first sales representative for California. Joe coins the phrase: Sling Shot is a frame of mind.  Gets OF MIND license plates for the 1965 Chevy van which becomes the Sling Shot promotional van.
1988
Brothers Mark and Joel Groendal go on tour to visit Crested Butte & Sun Valley.  Bicycle production and racing continues. During annual industry trade show Pro Racer Martin Stenger, looking for a ride meets the Groendal brothers and Sling Shot crew who happen to be looking for a Pro Rider. An open-minded agreement is formulated, based on a test ride and a race resume. Joel Groendal joins Greendale Bicycle Co. full time rather than painting frames at night.
1989
The 1989 frame is very similar to the 1987 frame except the spring is moved to a position inside the strut that connects the two stacked top tubes.  Compression spring is located above rather than below. It is encapsulated inside a tube between twin top tubes. Tubing diameter changes. Experimental lighter-gage road tubing utilized on Martin Stengers prototype MTB race frame.  
Sizing: 15, 17, 19, 21, & Custom.     
Retail Cost: $1500/Frame & Fork
Team SS Info: Team Manager Brent Walk     
Sponsors: True Temper, Suntour, Urbanec, LT, Sun Rims
Members: Pro Rider Martin Stenger
1990
Frame design evolves early in the year but later than trade show (September 1989) thus model year 1990� designated. Basic changes include cable attach points: relocating spring to opposite position in front of BB in a new spring retainer, and moving cable attachment position forward to the head tube/top tube intersection. Leverage ratio and hence spring rate changes allowing a smaller (� diameter) spring, saving a few more grams. Sales demands increased production capacity. Groendal brothers believe in American manufacturing and refuse to outsource production. Thus a compromised solution is to hire eager racers and aficionados, teach them the trade. Mark Groendal applies for third Patent: Bicycle Frame Slingshot racer Martin Stenger finishes 10 in the 1990 NORBA Pro Series.
1991
Frame design evolves: Boom tube! Answering the many requests for a single tube front end or monocoque design, a tube previously designated for tandem frames is formed into the current top tube. The cable is anchored at the head tube with the spring mounted to the bottom bracket.  Race team graphics get large to match the boom. External gussets used under boom next to cable attachment. Suspension fork specific geometry used on race team frames. Orders exceed production. Production goes haywire, heads chasing tails; raw materials and finished product are delivered UPS blue or red label. True Temper ships a batch of substandard tubing creating a warrantee nightmare for Greendale Bicycle Co. Custom road frame built for Martin (after many requests). Bottle Tree developed to answer complaints that the Sling Shot frame holds less water: A device is designed to hold two water bottle cages in the space of one.  Pro team travels to attend European races.  Triathlon frame is now available and uses 26" wheels.
1992
February Ti Slingshot: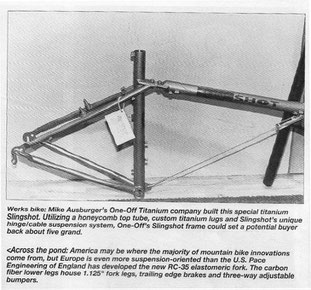 Frame design evolves: Spring and cable swapped upside down. Putting the spring behind the head tube eliminated some noise and fatigue issues. Suspension fork specific geometry used on production frames as requested. Graphics changed to SlingsHOT logo. Orders by far exceed production. Road and Triathlon 26 wheel (ERD 571mm) frames designed and produced. First and only complete Titanium Sling Shot built (with permission) by Mike Augspurger, of One-Off Titanium. The frame sports a 1 � round top tube with a honeycomb core. Built for Tim Metos, proprietor of Wild Rose Sports, Salt Lake City, Utah. At the time Wild Rose was Sling Shots top retailer
February 1992 Mountain & City Biking magazine review:
October 1992 Bicycle Guide magazine bike review:
1993
Frame design evolves: Flex plate/box/board position standardized to 14 for all sizes. This in effect decreases the proportion of lateral flex to horizontal. Coil spring diameter changes back to 1 due to leverage ratio of 14 rear end on larger sizes.  16/18/20 sizes have increasingly taller seat collars measured center to top. Seat tube changed to 1 3/8 diameter Frames (MT3) are available in full titanium, 1/2 Ti and 1/2 Cro-Moly or full Cro-Moly.   There were only a small number of Ti bikes made by Titus USA for Slingshot.  The Tri bike (TR3) uses 26" wheels as does the road frame (RD3).  The idea being that the frame absorbs the extra harshness usually associated with the smaller diameter wheels.  Experimental compression tube prototype tested by race team. First folding model prototype built.
 Mark Groendal applies for fourth Patent: Flexible and Folding Bicycle
Sizing: 14/16/18/20
Location of MFG: Grand Rapids, MI
1994
Frame design evolves: Ovalizing seat tube at BB accomplishes lateral stiffening and eliminates internal seat tube gusset saving a few grams. External gussets used on seat tube adjacent to box housing the flexible board. Folding version becomes available in all models. Tradeoffs for folding model: adds �lb, but can fit into 30x30x12 soft case made by Pica Packworks (Mark Smedley Pro Slingshot racer) that meets airline size regulations. Folding version has no effect handling, stiffness, or suspension in any way. It is essentially a full size wheel, folding suspension bike. 
Faced with huge debt and burnt out from years of struggling to make ends meet, Mark Groendal is encouraged to make some sort of deal thereby getting an investor. Behind closed doors, Jim Fuller, a Michigan philanthropist, buys Slingshot from Mark as an asset purchase, essentially buying the name and rights to the product and patents, but not the debt. Mark is hired on as a consultant and production foreman.  
The deal eliminates the pro team, specifically Martin Stenger who is still due contract balance and expenses from 93.
The mountain (MT4), road (RD4) and Tri (TR4) are available in Full 1 (6Al/4V titanium boom tube, 3Al/2.5V rear triangle), Split 1 (Ti boom tube, Cro-Moly rear) or Rear Ti Split (Cro-Moly boom tube, Ti rear triangle).  The RD4 is now available in the 26" or 700c wheeled versions.  The MT4 frame adds the new Pro-Action down tube which controls compression impacts with elastomers and tension strain with the coil spring design.   Pro Action down tubes can be retrofitted to the 1993 frames. All frames are now available in a quick release version which allows the bike to be broken down for storage or transport. 
1996
First year for complete Slingshot bikes.  All models are equipped with Sachs components.  Folding version of all bikes are available.  Listed as being capable of building 2000 bikes per year. 
2003
Adds a 29" wheel Big Shot frame to the line-up.
2004
New aluminum prototype bikes being produced.  
2011
Mark Groendal releases the Energy Return Bike (ERB) while Slingshot is making conventional hard tail mountain bikes.