In 1982, Dave Gnehm, of Mercer Island Cyclery, asked John Olsen to help him design a mountain bike for NW trails and trials riding. John had built maybe half a dozen of his own frames for himself and buddies like Lee Kanning, Ron Murakami, Carl Wegner, Francis Foster and a few others. The frames, at that time, were minor variations of the Mongoose Kos Kruiser with brazed-on canti brake studs. The geometry of the Raven was based off of those minor variations of the Kos Kruiser. The main variation was to raise the bottom bracket a bit, but the rest was quite similar. In late 1983, Dave Gnehm found a dragster builder, Art Morrison Enterprises, and this guy had an employee who built the frames who could miter tubes to a near perfect fit by eye with a bench grinder! They had very good TIG capabilities from the race car building. Production, at Art Morrison, was approximately 40 frames. Dave also found a powder coater in Seattle or Tacoma, and had the frames powder coated (ahead of his time, as usual, if you know Dave). The Raven came in two colors (red and blue) and two frame sizes: a Z (Zorn) model and a G (Gnehm) model with the seat tube being longer on the Z. The G was the original with Jim feeling he wanted a bigger bike, so the Z. Jim Zorn, former Seattle Seahawks quarterback and current (2008) Washington Redskins coach, was a friends of Dave's and helped sell bikes in the off-season (see note below). Dave chose the parts with input from John, put them together and sold them. Most of the credit for this bike goes to Dave Gnehm! The bikes were all sold by Mercer Island Cyclery, mostly as complete bikes but also some frames. Custom parts were used in making many of the bikes for serious off road, trials type riding. And that was the Raven!
---
May 1984 letter announcing the upcoming Raven model. signed by Jim Zorn.
Shortly thereafter, Angel Rodriguez of R&E Cycles asked Olsen to design a mountain bike frame for the shop. Olsen designed the Montagna with curved fork blades. There was another company already using the Montagna name, so the R&E project kind of died after the first lot from Taiwan.  
Next, Cannondale called and asked John to consult on their first mountain bike frame, the 1984 SM-500. He drew up plans for a 26/24" bike with geometry just a little different from the previous bikes. Olsen had built a bike with a 24" rear wheel just before this, and recommended the 24" wheel for Cannondale because they had to squeeze a thick aluminum chain stay between the chainrings and the tire. Later, they learned how to form the aluminum like crazy, and were able to use 26"ers. They took the plans, changed things, shallowed out the head angle because they were nervous about a 71 degree head angle (sounds odd now, but back then most mountain bikes were 67-69 degrees and handled like river barges), but left the rest pretty much the same, and put it into production. Payment was one or two complete bikes. 
---
In 1986, John took Chris Murphy, marketing genius and Energizer Bunny at Raleigh in Kent, WA, riding up on the Tiger Mountain Trail, and he asked John to design a bike for them. John worked with Chris on this, and Chris added the big gusset with the mountain outlines on edge of the plates. Murphy also picked out the color and the name, the 1987 Raleigh Edge.
---
March 1987 Raleigh Edge ad w/ John Olsen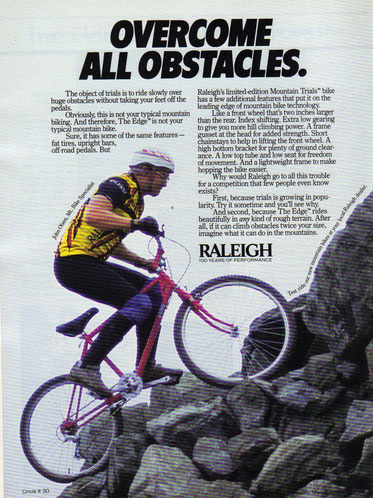 ---
John had suggested the Raleigh Llama which didn't go over so well.
In June of 1989, John wrote an article about bike names, most of which appears below.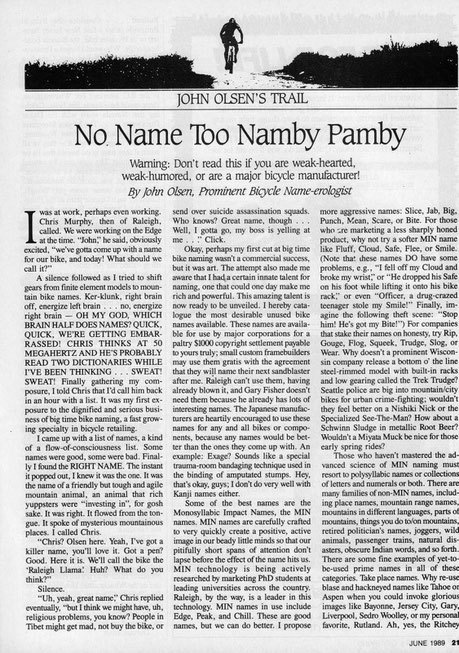 At that point, modern-ish XC geometry was taking over, and NORBA racing was king everywhere, even in the Northwest. John never designed another frame for anybody, although he kept building his own, culminating in the Strange Bike series. Utterly dedicated to ultra-technical tails by dint of removing the saddle and seat post entirely (why carry it if you can never sit down?), including a 26/20 seat less bike, a 20/20, and a number of 26/26's. and rode them for a long time. Shoji, at Suntour and later Sidetrack, got one and liked it so much he had a bunch of them built by a frame builder in Seattle with Olsen's permission.
Mountain Biking Magazine article from November 1988
At some point in there, Ron Murakami from LA ,called and pointed out how well his Bridgestone MB1 worked with its revolutionary long top tube. It took a year or so for John to be convinced, but he then built himself a frame with a long (23") top tube. When he got used to it, he was amazed how well it worked on climbs, descents, almost everywhere. Unfortunately for the dozens of consumers who had purchased the above-mentioned commercial products, John learned this too late to incorporate the long top tube into any of the bikes. Other than that, these older bikes still have fairly modern geometry, steep steering heads, higher BBs and shorter stays.
---