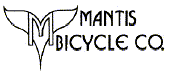 1981 
Mantis was founded by Richard Cunningham, long time editor of Mountain Bike Action magazine.
---
1983
The 1983 models were Sherpa ($850 frame $1595 bike), Overland ($750 frame), XCR ($850 frame $1695 bike)
Sherpa:  .035" wall large diameter 4130 Cro-Moly tubing, full fillet brazed, 2.5" fork rake, pressed in sealed Phil Wood cartridge bearing bottom bracket, Campagnolo 1010B short drop outs, stock Imron colors of medium blue, light continental blue, forest green, bright green, slate grey or golden brown.  72 degree seat and head tube angles, 11.5" high bottom bracket.
Stock component package includes: Campy seat binder quick release integrated into the frame, black Cordura nylon shoulder strap, 4130 stem with internal cable routing, Magura Shorties, Mafac tandem cantilevers, modified Zefal Tornade pump (rides inside the seat tube), Excalibur sealed cartridge pedals, Galli tapered roller bearing head set, Selle Italia Royale Anatomic saddle, Mantis aluminum bars, French Laprade seat post, Mariplast bottle, Blackburn cages, Araya 7X rims, Phil Wood hubs (quick release or bolt on), Comp III tires, Suntour thumb shifters, Sedisport chain, 13-30 Suntour New Winner freewheel, TA Cyclotourist crank (170-185mm length), Suntour Cyclone or Huret Challenger/Duopar
Overland:  Pretty much identical to the Sherpa but TIG welded as opposed to fillet brazing to keep the cost down.  The fork is the same as the Sherpa but the fillets are less finished.  The Overland is listed as being available as a frame set or frame kit but not assembled.
XCR (Cross Country Racer): designed to enhance high speed handling, shorter frame, longer seat post, taller stem, 17.5" chain stays, .035" cro-moly main tubes, Columbus stays, fillet brazed, standard color is Italian Red, Campagnolo 1010B short drop outs, sealed cartridge Phil Wood bottom bracket bearings. Same specs as the Sherpa except: Ambrosio Durex rims, optional modified Campagnolo cranks, Superbe Tech derailleurs, 13-28 New Winner freewheel, Suntour XC 5000 pedals
Components: Stem: triangular front piece with internal cable routing, 4130 TIG welded cro-moly, ovalized extension tube, curved stainless steel internal tube for cable routing Handlebars: .120" wall 6061T6 aluminum
Multi-maker bike review, including Mantis, from March 1983:
---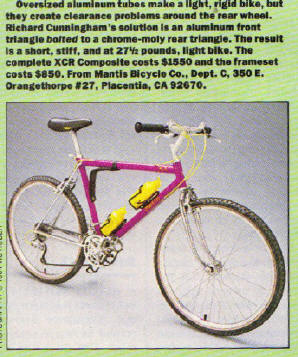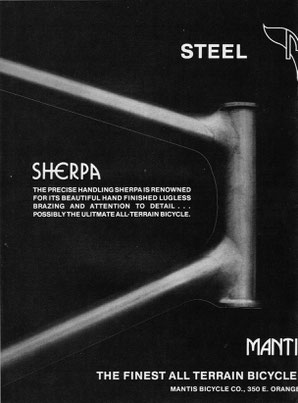 ---
1986 September Richard Cunningham interview:
November 1986 Mantis XCR bike review: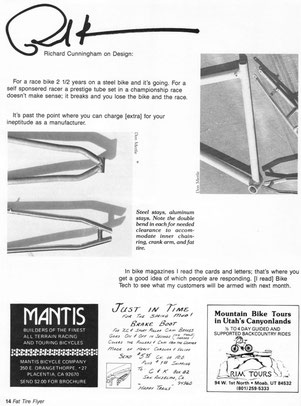 ---
1987 The XCR sells for about $1,750.
---
1988 October magazine announcement of the Cunningham-West Coast Cycle (Nishiki) collaboration.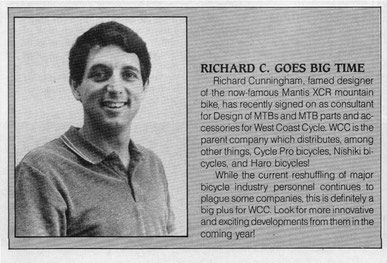 ---
1990
Debut of the Flying V aluminum monocoque main frame and cro-moly bolt-on rear end. Mantis begins exploration of a full suspension design.
---
1992 
All models were redesigned to tackle the new world of suspension:  The Flying V is available in three sizes, uses sealed press-in bottom bracket, 26.8 mm seat post, 1" head tube only and designed to be used with a suspension fork.  The XCR is now all welded aluminum with elevated stays (possibly only 3 frame built in this configuration).  The XCR uses 22.2 mm seat stays, 25.4 mm chain stays and a 35 mm seat tube.  The bottom bracket is a sealed press in unit, 26.8 mm seat post, 1" standard (1 1/8" optional) head tube and cable routing to work with top or bottom pull derailleurs.  Sizes are 16" through 22" in 1" increments.  The Valkyrie is welded True Temper OX Cro-moly tubing and features elevated stays.  The 1992 model uses a conventional single top tube (as opposed to the older models multi-tube top tube), 68 mm threaded bottom bracket, 26.8 mm seat post and 1" head set. Suspension corrected geometry in 16", 18" and 20" sizes.  The full suspension Pro Floater uses an aluminum frame and swing arm with a steel strut.  The bottom bracket is a sealed press-in unit, head tube is 1", seat post is 26.8 mm and is recommended for a 2" suspension fork.  Sizes are 16", 18" and 20".  Pro Floater chassis were farmed out to Redline for production.
1993 
Models listed as XCR, Flying V and Pro-Floater.  Richard Cunningham becomes editor of Mountain Bike Action magazine and puts Mantis up for sale. 
1994 
The company was bought out in late 1994 by two former Bell employees (Pat McIntyre and Tom Akeley) and Doug Solomon, a Wall Street investment banker.  Dave Shultz, another Bell employee, is hired to update the Mantis product line.  The XCR loses the bolt-on cro-moly rear end in favor of a welded aluminum rear.  The thermoplastic Screaming V picks up where the Pro Floater left off. A light system, Mondo Light, is shown housed in aluminum housings.  Critical Racing, maker of high end components, is also bought by the new owners of Mantis.
---
1995
Ingenuity Sports, in Altadena, CA, is the home of Mantis, Critical Components and now Carmichael Company (May, 1995). Screaming V is in production now. Critical Components products include cantilever brakes, brake levers, quick release skewer and a stem.
July 1995 Screaming V prototype article:

These are prototype Screaming V frames that were donated to the museum. The frame to the left was used to experiment with different cable routings.
---
1996 
Carmichael will sell a rear derailleur, made by Joes Prototype Machining in Denver.  Ingenuity sales listed at "less than two million dollars". 
1997 
Models are unchanged from 1996
---
Mantis model descriptions 
Sherpa: Pretty conventional cro-moly steel frame.  One of the first models from Mantis when they started building bikes in 1981.
XCR:  The XCR was introduced in the early-mid 80's.  It was built in 2, perhaps 3 versions.  From its beginning until 1990 or 1991 it was a traditional design with aluminum front triangle and bolt on Cro-mo rear triangle.  In 1990 or 1991 the XCR received the elevated rear end.  Production stopped in 1993 I believe with a few leftovers being sold in 1994.  All these frames had 1" head tubes, press fit BBs and 26.8mm seat posts.  There were a few customs with 1 1/8 and 1 1/4" head tubes and some had threaded BBs.  The frames came stock with straight blade rigid forks and stems.  The very early models had custom Mantis stems and the rest of them came with Salsa roller stems.  A 3rd version was in the works and I don't know if any were produced or if it was still in the prototype stage when the company was sold.  It was an all aluminum XCR with elevated stays...again to reduce the weight in response to team riders requests.  It was of all welded construction.  There were handful of prototypes of this for sure.
Valkyrie:  The Valkyrie was made from the mid 80-s until about 1990.  I think they stopped making them when the Flying-V was introduced.  Available in both non-elevated and elevated designs with 1" head tube and press fit BB (although I know your frame is threaded and I'm sure there were a few other customs like that).  I don't know the seat post size but I assume  it was 26.8mm as that seemed to be Richards size.  I'm not sure if any of these came with Mantis stems as all of them that I've seen had the Salsa Pro Moto roller stem.  Straight blade rigid fork also standard.
Flying V: The Flying V was introduced in 1990 I believe.  Elevated Cro-mo bolt on stays, press fit BB, 1" head tube, 26.8mm seat tube.  This frame remained the same until 1995 when it was made entirely of aluminum to lower the weight and also received the changes listed above. At some point the monocoque section began to have the "Mantis" stamped into the frame.  The early versions just had decals with the name.  I estimate this happened in 1993ish.  Another change was in the rear end.  Some of the bolt on rear triangles had reinforcement tubes running between the canti bosses and the chain stays and some did not.  I do not know when this happened.  The R Cunningham Flying V's came stock with a straight blade rigid fork and Salsa roller stem  Here are a few pics of variations on the Flying V.  This first picture is a 1995-97 version with stamped "Mantis", all aluminum construction and standard stays.  The second picture is a frame with the stamped front and non connected seat and chain stays.  The third picture is of a first yr Flying V with the chain and seat stays connected at the brake post and with vinyl "Mantis".   The frames with the stamped "Mantis"  that I have seen also seem to have undergone more finishing; the welds that join the 2 halves of the monocoque section at the head tube were filed down smooth so it looks like one piece whereas the older frames with the vinyl decals still have visible welds on the front of the head tube.
Screaming V: Constructed of Cytec thermoplastic carbon which replaces the aluminum main frame of the Pro Floater.
Pro Floater:  Pro Floater from 1991-1994 had a round aluminum swing arm and a Cro-mo rear strut.  Seatpost was 26.8mm, 1" head tube and press fit BB.  The very early ones had both chain stays somewhat elevated and used Marzocchi rear shocks.  The majority of them came with Noleen rear shocks and had the drive side stay elevated and the non-drive stay straight.  The swing arm was usually painted  the color of the frame. From 1995-1997 the frames had 28.6mm posts, 68mm threaded BBs, and 1 1/8" head tubes.  The swing arm was beefier and now box section and the strut was aluminum as well.  Some of them also received a CNC machined piece that the main swing arm pivot was on as opposed to the normal round tube found in the 1st generation frames.  As a side note I don't know if they switched painters but the 1995-1997 Pro Floater paint jobs were terrible.  They chip very easily. 
---
Mantis designed Nishiki timeline  
1989: Nishiki introduces the original Alien with elevated chain stays.  The bike is double butted Tange Prestige tubing, rigid straight bladed for with a full Shimano Deore XT 7 speed group.  The bike is painted pear white.
1990: The new Nishiki Alien ACX come out with a square aluminum front triangle and a chrome plated cro-moly rear triangle (with elevated chain stays).  This bike was made in the same manner as the Mantis XCR bike.  The ACX used a Deore XT group with a Tange Switchblade fork.  Color was red with chrome rear.  The regular Alien continued on with a white frame with black splatter and an oversize headset.  There was a new Pinnacle with Suntour XC Comp parts in Black with Neon Pink Crackle paint.  The Ariel was the entry-level e-stay bike with Deore DX parts and was available in your choice of Pacific Emerald or Blue/Black Zolotone.
1991: The ACX continued from 1990 with a new black paint job and a regular unicrown fork.   The plain Alien went to the square aluminum main frame with an aluminum e-stay rear welded to the main frame.  The Ariel changes to the Deore DX components and the Cascade moves down to 500LX.
1992: The top Nishiki Alien goes to the welded aluminum frame (square tubes) with the welded on elevated stays (no more bolt-on stays).  The color is TFB Green with a Rock Shox Mag20 fork and Deore XT parts.  The Alien in the same aluminum frame with a rigid straight fork and Deore DX parts.  Color is blue with white decals. The Ariel is the cro-moly frame with Deore LX parts in Charcoal Silver. 
---
From the Mountain Bike Hall of Fame
Induction Year: 1995 
Richard Cunningham founded MANTIS BICYCLES in 1981. The Mantis is known for its magic feel ride. With the now legendary XCR aluminum/cro-moly composite frameset, the cro-moly X-Frame, the monocoque Flying V, and the fully suspended Pro Floater, Richard continues to create new, practical, evolutionary designs that have pushed the possibilities of the mountain and helped pave the way for the fully-suspended cross-country mountain bike. An early activist in the land access movement, Richard was the long time editor of Mountain Bike Action magazine.
---